Homeless man rescued from Haywards Heath culvert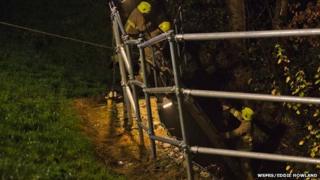 A homeless man who had been living in a culvert in West Sussex had to be rescued after he became ill and was unable to move.
Firefighters and paramedics were called to the pipe behind the Princess Royal Hospital on Lewes Road, Haywards Heath, at 21:51 GMT on Wednesday.
Two crews from Haywards Heath responded to a 999 call.
South East Coast Ambulance Service's hazardous area response team was also involved in the rescue.
A rope and a ladder system and a stretcher were used to remove the 44-year-old man from the culvert and haul him up the steep-sided bank to safety.
The man, who was conscious and breathing, was treated at the scene by paramedics and then taken to hospital.