Brighton and Hove council criticised over recycling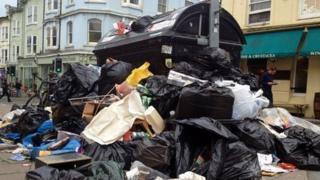 Three quarters of waste in Brighton and Hove, the country's only Green-led authority, is not being recycled.
Figures from the Department for Environment, Food and Rural Affairs, show the authority recycled 25.8% of its waste in 2013-2014.
Critics said the council ranks near the bottom of national league tables with the highest performing authorities recycling 65%.
The Greens said they had improved the recycling system.
Pete West, who is the Green chairman of the council's environment, transport and sustainability committee, said: "We don't collect garden waste, the city never has done, so it has always by comparison languished near the bottom of the league tables.
"For a third of the city we've improved the recycling system by introducing communal recycling and it's very popular and we will see an increase in the amount of recycling that we get - and that's some achievement.
"It's not easy to change things in the current situation."
'Everything went in bin'
A league table compiled by recycling and resource management company, Sita, put Brighton at 306 out of 326 councils.
South Oxfordshire was the best performing council with 65.7% of waste and Newham was worst with 17.7% of waste.
Brighton has been hit by several strikes by refuse workers - most notably in June 2013 when rubbish piled up on the streets.
Dawn Barnett, who is a Conservative councillor in Hangleton and Knowle, said the council should be doing a lot more to promote recycling.
She said: "We need to advertise it more. When the [bin] strike was on people were fed up with waiting, we didn't know if they'd be there so everything went in the bin.
"It has never got back to normal since the strikes.
"We're paid for the amount we recycle and when people aren't recycling the council's coffers are falling down."