Gatwick Airport railway station revamp backed with £60m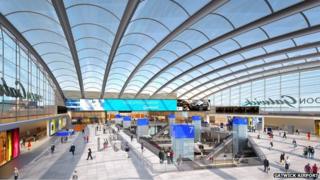 Transformation of Gatwick Airport's railway station has been given a boost after Network Rail and the airport announced £60m funding.
Work is due to begin in 2017 on the £120.5m project on the station concourse and links to the airport.
Network Rail and the airport have announced they will each contribute £30m to the project.
In December 2013, the government said it would provide £50m, subject to funding from the airport.
In the chancellor's Autumn Statement, the government announced it would "take forward a package of measures to improve surface access to Gatwick Airport".
The concourse at the railway station will be doubled size, with more escalators and lifts to the platforms, with work due to be completed by 2020, the airport said.
Guy Stephenson, Gatwick's chief commercial officer, said: "This new station builds on the ongoing transformation of Gatwick Airport and will deliver a first-class gateway for visitors, air passengers and the one million rail commuters who use Gatwick station every year."
The airport said the final parts of the funding were still being arranged.
Rail services to the airport are also due to be improved, with new Gatwick Express trains by 2016 and new Thameslink trains by 2018, the airport said.
Direct connections are planned to Peterborough and Cambridge, with trains to central London running every two-and-a-half minutes, by 2025.
The chancellor's statement also included a Network Rail study into improvements to the Brighton mainline, which runs through Gatwick Airport, and work to look at possible improvements in airport road access.