Jo Pavey to start Brighton marathon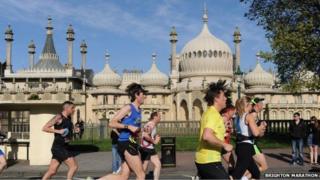 European 10,000 metres champion Jo Pavey is to start the sixth Brighton marathon, it has been announced.
The gold medallist will fire the starting gun in Preston Park on 12 April 2015.
About 9,000 completed the 2014 event, which takes in most of the seafront and finishes near Brighton Pier.
Exeter-based Pavey had the best season of her career at the age of 40, winning a major title for the first time in Zurich in August.
"Jo is not only a fantastic athlete but an inspiration to us all because she manages to combine a normal family life with all the demands an athlete faces," said the founder of Brighton marathon Tim Hutchings.
The Brighton marathon was first held in 2010.