Brighton Winter Solstice event helped by crowd-funding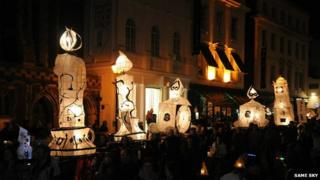 Organisers of a Brighton festival marking the Winter Solstice have turned to crowd-funding to run the event.
Burning the Clocks will go ahead on Sunday night after the community arts charity that runs it raised £5,500 with a crowd-funding appeal.
Same Sky is supported by Brighton and Hove City Council but lost its annual £100,000 Arts Council grant in 2012.
Director John Varah said the amount raised was a fraction below its target but ensured the event took place.
Burning the Clocks sees thousands of people parading lanterns through the city centre and ends with a fireworks display on the beach next to Madeira Drive.
It has been held since 1993, and attracts about 3,000 spectators.
For the first year it has expanded into a full weekend festival, with a lantern-making workshop for children on Saturday at Phoenix Gallery in Waterloo Place, Brighton.
There is also a display and live performance outside St Peter's Church in the city centre on Saturday night.
The Arts Council provided £7,500 for Saturday's events.
"Burning the Clocks in Brighton is celebrating its 21st anniversary this year, and we've only ever missed one event in those years, due to poor weather and icy, unsafe streets," said Mr Varah.
"We've fought each year to bring a meaningful community event to Brighton on the Winter Solstice, acting as a counter to the materialistic side of Christmas.
"However, with recent challenges to arts funding this year we need further support.
"Rather than just asking for donations on the night we wanted to provide ways for people to invest more in the event.
"Having said that, we'll still have volunteers with collection buckets throughout the parade on Sunday, and if everyone watching Burning the Clocks can throw just £1 in the collection buckets, the event will pay for itself."