Sussex Police website hacked: Personal email data taken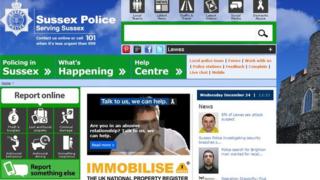 Personal details of up to 270 people, including police officers and members of the public, may have been obtained by hackers who targeted the Sussex Police website.
The force said email addresses of people who used community areas of the site had been taken.
A spokeswoman said three breaches of a "contained area" of the website had been identified and could be linked.
Staff have contacted about 270 people to give them security advice.
Amaraghosha Carter, joint head of IT for Surrey and Sussex, said the website was completely separate from the systems the police used to investigate crime.
'Not compromised further'
She added: "A full investigation is underway to identify the source of the breaches and their impact.
"Those responsible have obtained email addresses of a number of officers and personal email addresses of some members of the public who have used the services of our website.
"Communications staff have contacted around 270 people who may have been affected, in particular to give them security advice in relation to their passwords for our community messaging service.
"Measures are being put in place to ensure that the security of the website is not compromised further."