Seed collected in Chile by Kew scientists flowers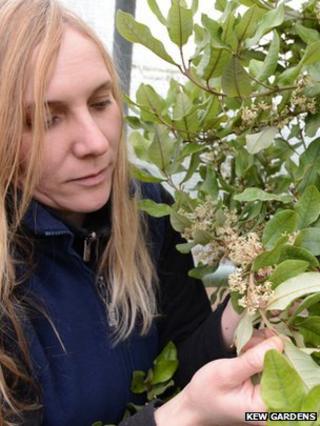 A rare plant seed collected in South America five years ago has begun to flower in a West Sussex botanic garden.
More than 500,000 seeds from trees and shrubs in Chile were gathered by a team from Kew's country estate at Ardingly.
They were collected in 2009 for the Millennium Seed Bank project.
Specimens of Aextoxicon punctatum, a large evergreen tree native to Chile and Argentina, are now flourishing in the propagation nursery and Southern Hemisphere Garden borders at Wakehurst.
Plant propagation and conservation manager Jo Wenham, who was part of the team which collected the seeds in the coastal reserve in Valdivia, said: "Although the plant is likely to produce seeds, they are what's termed recalcitrant and so can't be stored.
"The way to ensure the plant's survival is therefore to conserve it in our living collections at Wakehurst."
She added that the tree could grow as tall as 15 metres (49ft).
Aextoxicon punctatum is the sole species of genus Aextoxicon and family Aextoxicaceae, which is an important tree in providing commercial timber.