Valerie Graves murder: Sussex Police return to Bosham village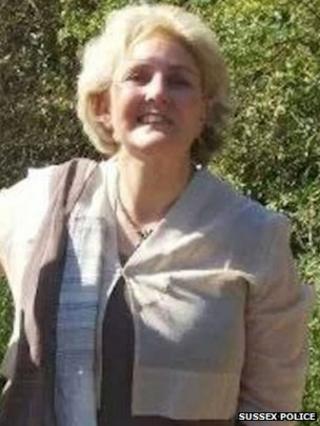 Detectives have returned to the scene of an unsolved murder in West Sussex one year after a grandmother was bludgeoned to death with a claw hammer.
Valerie Graves, 55, was killed while she house-sat for friends in Bosham.
Sussex Police said during the course of the investigation into her murder, more than 9,500 people were interviewed and a £20,000 reward offered.
Officers have asked all men who visit, work or live in the area to voluntarily attend DNA screening sessions.
Police want all men over 17 to provide a DNA mouth swab and thumbprint to enable them to eliminate as many people as possible from the inquiry.
Drop-in sessions will be held at the Millstream Hotel between 21 and 29 January, 2 and 7 February, and 10 and 15 February.
Earlier this year, police obtained a partial DNA profile of the suspect - the sample was not complete enough for a search on the DNA database but could be used to eliminate suspects, officers said.
No-one has been charged over the murder in Smugglers Lane.
Police returned to Bosham on Monday to speak to residents and visitors in a bid to force a breakthrough.
Officers will also be in the village on Tuesday - the actual anniversary of the death.
Ms Graves had been repeatedly hit on the head and face with the hammer. She was discovered by her sister.
Det Supt Nick May, of the Surrey and Sussex major crime team, said: "We need the public's help to catch this person before they hurt someone else and to get justice for Valerie and her family."
Last week Ms Graves' son, Tim Wood, 32, said: "It's hard to carry on knowing that someone is out there able to do it to someone else and knowing that they haven't been caught for what they have done."
He appealed for anyone with information about the killer to come forward.
During the investigation a 22-year-old man was arrested and released without charge.