Bids accepted for runway extension at Lydd Airport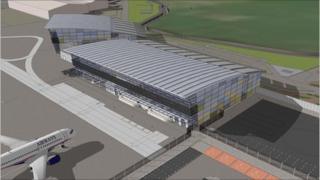 Contractors have been invited to submit bids to extend the runway at Lydd Airport in Kent.
Work is expected to begin at the airport this year, with a new terminal also being built.
The £25m development will enable the airport to handle aircraft up to the size of Boeing 737s or Airbus A319s.
A legal challenge to stop the work was launched by the Royal Society for the Protection of Birds and the Lydd Airport Action Group, but failed.
At present, the runway is only long enough to cope with smaller aircraft on short flights. It will be extended by 965ft (294m).
'Airport capacity'
The airport opened in 1954 and in 1958 it handled 230,000 passengers - 37,000 more than Gatwick at the time.
However, expansion at Gatwick limited the appeal of the airport.
It has since been renamed London Ashford Airport.
The airport's chief executive Charles Buchanan said: "The airport is the perfect base for airline operators.
"Our runway extension will enable regional jet aircraft to fly a full payload of passengers to a wider range of destinations across Europe.
"We are also providing much-needed additional airport capacity in the south east of England."