Lewes St Anne's School site sale 'benefits community'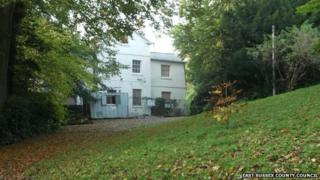 Selling a former school in Lewes to a spiritual organisation will bring real community benefits, a review of the process has found.
The Subud community, which already has premises in the town, is to buy St Anne's School, which closed in the 1990s, from East Sussex County Council.
Lewes Community Land Trust and the YMCA made unsuccessful bids for the site.
The council set up a scrutiny board to review the sale after campaigners complained it was not transparent.
Preferred bidder
The four-acre grounds of St Anne's were occupied in 2011 by climate activists who declared squatters' rights.
After their eviction the county council decided to sell it for community use.
Subud, a non-denominational organisation formed in the UK in the 1950s, was named as the preferred bidder on October 2013.
But the community land trust argued there would be no community benefit because Subud would close its existing premises.
The scrutiny board decided there had been a robust bidding process which included consultation with the local community.
But it made a number of recommendations about the sale of community assets in the future, including that winning bidders should provide evidence of their equal opportunities policy.
The council would also make clear that "best value" did not necessarily mean getting the highest price.