Brighton sea deaths: Tributes to Freddie Reynolds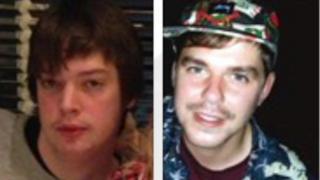 A man who drowned when he and a friend were swept out to sea at Brighton has been described as a "lovely lad", by his former school.
Freddie Reynolds, 24, and Dan Nichols, 23, died after they got into difficulty in gale force nine conditions near Palace Pier at 01:00 GMT on Saturday.
The men were near the edge of the water with three others in what Sussex Police have described as a "dare".
Dorothy Stringer School said it was "saddened" by Mr Reynolds' death.
The bodies of Mr Reynolds and Mr Nicholls were found in Saltdean on Saturday and Rottingdean on Sunday respectively.
The deputy head of his former school, Richard Baker, said it extended its "deepest sympathy to Freddie's family and friends".
"Freddie is remembered fondly as being 'bubbly, fun and sporty', a 'lovely lad who was always smiling'.
"He was a well-liked member of the school community," he added.
Sussex Police said friends of the pair told them Mr Nicholls was knocked off his feet by a wave on Brighton beach and his friend was then swept out to sea after diving into the water to rescue him.
Mr Reynolds' family said his loss would leave a "huge void in a lot of people's lives" and described him as "a very loyal and brilliant friend".
Mr Nicholls was described by his family as "very bright" and "well-loved by many".