Hastings warned of council jobs and spending cuts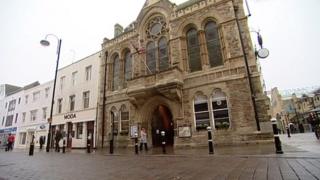 An East Sussex borough council has warned of 40 job losses and reduced services in the next financial year, blaming government cuts.
But Hastings Borough Council said it had protected key services to local people despite a reduction in its spending power of 6.4% for 2015/2016.
The council is among those in England hardest hit by a cut in funding from central government.
The government has said the funding was fair for all parts of the country.
The amount the council receives from council tax will go up by 1.9%, or £4.48 per year for a band D council tax payer.
Hastings said it would have to lose 20 council posts this year and another 20 the following year - a total of 10% of the workforce.
It also said the Old Town Museum was earmarked for closure and there would be no financial support for twin town links other than the Hastings Sierra Leone Friendship Link.
There would be a significant cut in support for Hastings Chess Congress and community organisations.
Car park charges would rise for the first time in three years.
"We will be a smaller organisation delivering fewer services over the next two years because the money is not there," said council leader Jeremy Birch.
Hastings was among councils told in December it would face a loss of spending power of 6.4% as a result of cuts in funding from central government.
Local Government Minister Kris Hopkins said the settlement still left councillors with "considerable total spending power".
He said, with an "unprecedented challenge to public finance" the government had "delivered a settlement that is fair for all parts of the country, whether north or south, urban or rural".
Councils wanting increase their council tax by more than 2% would have to hold a local referendum.
The council will make its final decision on next year's budget on 25 February.