Gatwick Airport 'to be world's most efficient' with revamp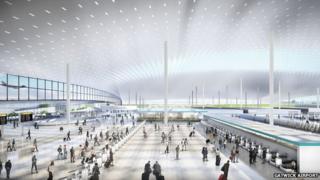 Gatwick Airport will be the "world's most efficient two-runway airport" if new designs are implemented, bosses claim.
The Sussex airport has commissioned the designs from Sir Terry Farrell in a bid to eliminate queues and speed up aircraft turnaround times.
The designs are part of the airport's campaign for a second runway.
Passengers would be able to reach boarding gates within 30 minutes of arriving, the airport said.
The designs show self-service bag drops and electronic security gates, and shorter taxiing times of seven minutes, reducing airline operating costs.
A spokesman for the airport said: "An expanded Gatwick would be the world's most efficient two-runway airport - flexible and responsive to meet the changing needs of passengers and airlines.
"The plans demonstrate how queues will be eliminated, passenger transit through the airport will be sped up."
Heathrow's plans for expansion have also gone on display. The airport plans to extend its existing northern runway to a length of about 6,800 metres (22,309 ft) and divide it, to create two runways.
New runways at Heathrow and Gatwick have been short-listed by the Airports Commission for expanding UK airport capacity.
The commission, led by businessman Sir Howard Davies, is due to issue its final report by summer 2015.