Brighton binmen resume industrial action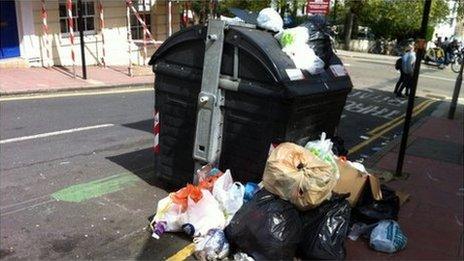 Brighton's refuse and recycling collections face fresh disruption after drivers began a new work to rule over job changes.
Members of the GMB union have resumed industrial action over grading and pay proposals by Cityclean, Brighton and Hove City Council's refuse service.
The council says residents can expect disruption to collections while staff pursue "action short of a strike".
Rubbish mountains built up in 2013 during a strike over a pay dispute.
The council says it is "extremely disappointed" that the union has resumed its work to rule during negotiations over Cityclean's planned changes to the job descriptions of some refuse and recycling collection drivers.
In a notice to the people of Brighton and Hove on the council website, the council says: "The union have a right to appeal. This has not been pursued yet and the industrial action is likely to lead to further disruption to residents. We apologise to residents for any inconvenience."
It says crews not involved in the dispute are doing extra collections to try to minimise the resultant backlog.
The dispute is over planned changes to the roles of driver chargehands, who, the council says, have supervisory responsibility and a need to understand "complex processes".
It says the job still falls within the same grade as before.
Richard Bradley, head of Cityclean and Parks, said the decision to take action would "lead to further disruption to residents at a time when we would want to be working together to put the service in the best place possible to face future challenges".
Officials of the GMB, who are due to meet council representatives on Thursday, have been unavailable for comment.
In 2013, members of the same union went on strike in a dispute over pay and conditions.
It was resolved after a new offer was made, but not before unsightly mountains of rubbish appeared on streets around the city and people were urged to take their own rubbish to the tip.