Off-duty East Grinstead firefighter saves footballer's life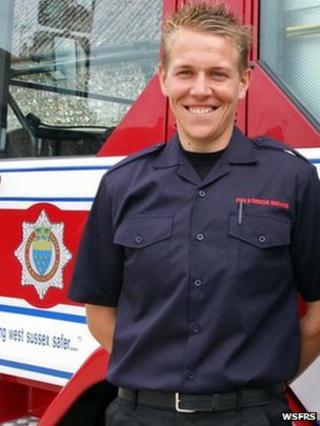 A retained firefighter is to receive a special commendation from West Sussex Fire and Rescue after helping to save a man's life during a football match.
Michael Gaunt, 25, was playing in a local league football game in Crawley when a player on the opposing team suffered a cardiac arrest.
He performed CPR until paramedics arrived about 15 minutes later.
Asst Chief Fire Officer Gavin Watts said his "calm and decisive actions made a vital life-saving difference".
Mr Gaunt, who works as a builder during the day, is a retained firefighter at East Grinstead fire station.
He said: "Although we didn't immediately know what had happened as soon as I saw him I knew that he needed urgent assistance.
"I checked his vital signs and knew he was experiencing respiratory failure and that his pulse was getting weaker.
"Rapid treatment is critical to someone's survival chances, so while the 999 call was made I started administering CPR," Mr Gaunt said.
The man was taken to hospital by ambulance following the incident on 31 January, and is now making a steady recovery.