Sussex PC told to remove union jack police charity badge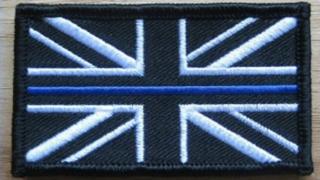 A constable has been told to remove a union jack badge supporting a police charity from his uniform because it breaches Sussex Police policy.
The badge, depicting a thin blue line on the union flag, is sold to raise money for the families of police officers who died in the line of duty.
The West Sussex officer was told to remove it by his supervisor.
The Police Federation said it was disappointed but Sussex Police said officers had to look professional.
The emblems are sold in support of the charity COPS (Care of Police Survivors).
The force is meeting members of the federation later to discuss the issue.
Mark White, of the Sussex Police Federation, said it was disappointed that officers were being told that they could not display "a sign of support to a very worthwhile charity".
"Having said that, the force have acknowledged the massive support that the officer is getting," he said.
The force said while it fully supported the charity, the badge was not part of the official uniform set out in the Uniform and Appearance Standards policy.
"Standards regarding what our officers wear need to be maintained otherwise officers and staff could end up wearing a whole array of badges for different worthy causes and the uniform would no longer be a uniform," it said.
Assistant Chief Constable Steve Barry said "recognised charitable emblems", such as the Remembrance Day poppies and White Ribbon badges, were allowed to be worn.
"We have received no requests so far to add this patch to the approved items," he said.