Sussex Police eases charity badge uniform ban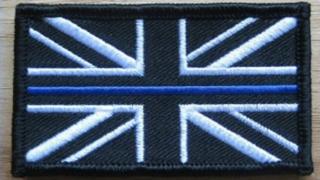 A police force has relaxed its ban on a charity pin badge after an officer was told to remove it from his uniform.
Sussex Police said the patch, sold to raise money for families of police officers killed in the line of duty, broke its uniform policy.
It said the symbol was not among a list of "recognised charitable emblems" permitted to be worn.
But after a meeting with the Police Federation the force agreed to allow a smaller pin badge version.
'Professional appearance'
Assistant Chief Constable Steve Barry said it had been agreed to allow "a discreet badge or pin" sold in support of the charity COPS (Care of Police Survivors).
However, the larger Thin Blue Line patch (70 x 38mm), would not be permitted, he said.
"The policy exists to ensure that there is a standard professional appearance for our uniformed officers and we feel that the size of this particular version of the badge would detract from that standard," he added.