Devil's Dyke rave review: Police to speed up response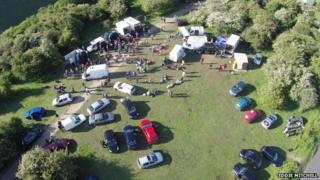 Sussex Police is to change the way it responds to reports of raves being held in the force's area.
It follows an internal review of the policing of a gathering of about 2,000 people at Devil's Dyke on the South Downs last May.
The force said it did not stop the party because of darkness, rain, the numbers present and the numbers of officers available.
Attendance at the rave only started to fall after road blocks were brought in.
Officers estimated some 2,000 people were present with up to seven sound systems and about 400 vehicles.
Sussex Police said senior officers will be told sooner and decision making speeded up.
Grassland 'trashed'
Assistant Chief Constable Steve Barry said: "As a result of the internal review undertaken into the management of unlicensed events, our approach to dealing with them has been strengthened.
"The process for alerting the force command structure has been tightened to ensure faster notification enabling quicker decision-making.
"A high degree of ownership is now instilled with local inspectors who are able to take account of the anti-social behaviour impact on local communities."
After the event, landowner National Trust said the site, north of Brighton, had been "trashed".
Spokesman Charlie Cain said: "It's a site of special scientific interest which is chalk grassland.
"They've trashed that grassland, and done no end of damage."
He said the habitat could take five to 10 years to recover.