Extra £60m for Royal Sussex County Hospital rebuild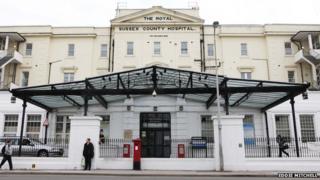 An extra £60m of funding needed to rebuild the Royal Sussex County Hospital in Brighton has been agreed by the health secretary.
Jeremy Hunt MP visited the hospital earlier to announce the increase after costs rose from £420m to £480m.
Old buildings at the hospital will be demolished and specialist facilities built.
Matthew Kershaw, who is the hospital's chief executive, said the buildings were "well past their sell-by date".
He said: "At the moment we provide fantastic care for our patients in all of our buildings.
"The improvements that patients will see are bigger rooms, more single rooms, better space for patients and staff."