Work begins on BMX and skate park in Hastings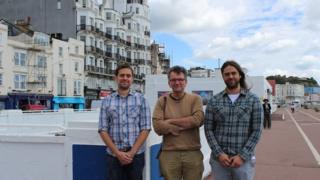 Work has begun to turn a former public baths into an underground BMX and skateboard park.
The derelict White Rock Baths under the promenade in Hastings will be turned into a "world class" venue, employing 30 people.
The £1.17m project is being financed by borough and county councils, landowner the Foreshore Trust, and The Source BMX shop, which will fit it out.
Hastings Borough Council said the park will be let on a 10-year lease.
Peter Chowney, lead member for regeneration, said a main arena will attract the "brightest and best riders" from around the UK and Europe.
He said: "A smaller training arena will offer opportunities for local young people to train alongside the country's finest riders.
"We look forward to seeing the works progress and are expecting the facility to open around Christmas time."