Sussex hospitals' cleaning contract cancelled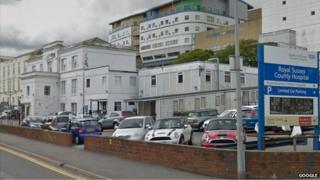 A Sussex hospitals trust's £15m contract for cleaning, portering and catering services has been cancelled.
The five-year contract with firm Sodexo will end in July by "mutual agreement".
Brighton and Sussex University NHS Trust outsourced services to the firm at Brighton's Royal Sussex County Hospital and the Princess Royal Hospital in Haywards Heath in 2013.
About 600 staff will be affected. Permanent contractors have been told they will be transferred to the trust.
Sodexo said there will be no change to their terms and conditions, after the contract ends on 31 July.
Those on casual contracts will have their employment "clarified" by the trust, Sodexo's operations director, Caroline Laver, said in a letter to staff.
Standards 'inconsistent'
Ms Laver wrote: "We confirm your contract of employment including your rate of pay, contracted weekly hours and terms and conditions of employment are protected and will transfer to the trust.
"We would like to assure you this change has been mutually agreed and is not a termination under our agreement by either party."
Matthew Kershaw, chief executive of the trust, said it would be looking at the lessons to be learned from the outsourcing process.
He said: "There have been inconsistencies with standards such as difficulties with maintaining cleaning standards.
"It hasn't always worked as well as we wanted it to."
Gary Palmer, from the GMS union, said: "There's obviously been a naivety with the costing of this contract, whether that was the trust in the first place trying to reduce the cost so much, or Sodexo's belief that they could come in and deliver it so cheaply.
"Clearly, either one, or both, have got this totally wrong."