Sussex men convicted of child prostitution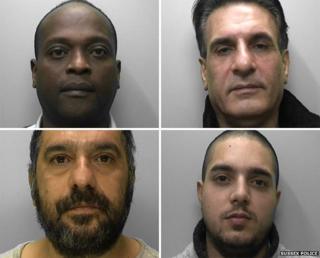 Four men have been found guilty of trying to force a "vulnerable" teenage girl into prostitution.
They "ruthlessly exploited" the 16-year-old victim and plied her with drink and drugs, police said.
The group systematically abused the girl over a two-week period and paid her cash in return for sex in Newhaven, East Sussex.
Two of the men were also convicted of sexually assaulting the girl, now 18, after a trial at Hove Crown Court.
Officers said one of the defendants, Christopher Kayla-Joseph, found the young, impressionable and vulnerable girl sitting alone on a street in Eastbourne after a family row in May 2013.
Cocaine conspiracy
He talked to her and invited her back to his flat, where he had sex with her.
Over the next two weeks, Kayla-Joseph and the other men exploited the girl, police said.
They were arrested after she told health workers and her family what had happened.
Kayla-Joseph, 27, and Mohammed Kamali, 46, both from Newhaven, Khosrow Sobhanieh, 56, of Guestling, near Hastings, and Stephen Daramola, 48, of Eastbourne, were convicted of conspiracy to arrange the prostitution of a child.
Daramola was found guilty of sexual assault, and Sobhanieh was convicted of rape and attempted rape.
Kayla-Joseph, Kamali and Daramola were also found guilty of conspiracy to supply cocaine.
Two other defendants, Khalid Del-Rosario, 45, from Eastbourne, and Giuseppe Carella, 19, from Newhaven, were found not guilty of all charges.
Det Ch Insp Mark O'Brien praised the victim, and said her testimony during the trial had been key in securing convictions against the four men, who will be sentenced next week.