Bexhill to Hastings link road badgers move into new homes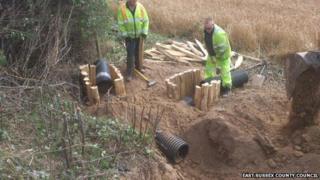 Two badger families have been moved into purpose-built setts, created along the route of a new road.
Work on the Bexhill to Hastings link road, in East Sussex, began two years ago, with setts in its path relocated.
The new homes were constructed using timber to create chambers and large plastic drainage pipes for tunnels.
Badger-proof fencing will be installed along parts of the road and tunnels will keep the animals away from the traffic.
Mark White, environment manager for the link road, said wildlife experts had helped to ensure the work was carried out correctly and it had been monitored and approved by Natural England.
He said the badger families were encouraged into their new homes using peanuts coated with syrup and honey.
Work on the new road is due to be completed later this year.