German students 'attacked by girls in Eastbourne'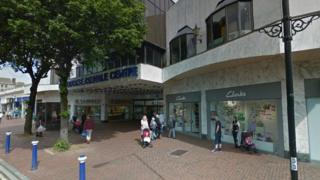 Three teenage German students have been attacked by three girls outside a fast food restaurant, Sussex Police said.
The two boys and a girl were assaulted outside McDonald's in the Arndale Centre, Terminus Road in Eastbourne at about 20:15 BST on Wednesday.
One was pushed to the floor and kicked in the head, a second had a drink poured over him and the third was struck on the head.
A 59-year-old man who intervened was pushed over and hit in the face.
The three students - two boys aged 11 and 16, and a 14-year-old girl - have been staying with families in Eastbourne while studying English.
Three girls, aged 14, 15 and 16 were arrested on suspicion of assault and released on bail until 1 May.