'Poison' sausage patrols stepped up in Hailsham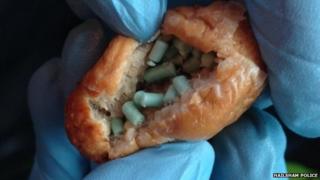 Police patrols at a popular dog-walking spot have been stepped up after the discovery of more cocktail sausages stuffed with toxic slug pellets.
The contaminated meat was first discovered by a dog walker on Wednesday on the Cuckoo Trail in Hailsham.
Sussex Police said more sausages were discovered on Monday.
Sgt Mark Ritchie said police were putting up signs along the trail and in vets telling dog walkers to be vigilant.
The RSPCA had previously warned that dogs ingesting even small amounts of some substances could suffer kidney failure and die.
'Motive not clear'
Sgt Ritchie said: "Thankfully, we have received no reports of dogs having been poisoned. The motive for the sausages having been left out is not clear.
"If people do see these sausages or anything similar, we advise they pick them up and remove them using gloves or dog poop bags and report the day, time and location of where they found them to police."
Poisoning is a criminal offence in the UK under the Animal Welfare Act 2006.
The maximum penalty for those found guilty is up to six months imprisonment and/or a fine of up to £20,000.