Brighton rape victim waives anonymity after 20 years of abuse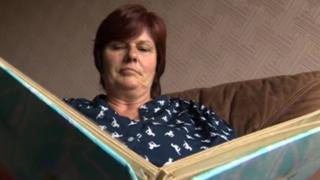 A woman raped by her ex-husband and uncle has waived her right to anonymity in a bid to encourage other victims of sexual violence to seek justice.
Tina Roper, 56, was raped several times over 20 years by her ex-husband, Michael Sicklemore, 60, of Peacehaven.
Her uncle, 83-year-old Robert Parr from Bognor, was also convicted of raping her in 1973.
"I am an ordinary person who got justice and the same can happen to you," Ms Roper told other victims.
Sicklemore was jailed for 10 years on 6 March, after a trial at Lewes Crown Court.
He was also found guilty of causing her grievous bodily harm.
Parr was given a was given a two-year probation service supervision order, at the same court on 26 March.
'Now feel safe'
Ms Roper said: "I am very happy and relieved that I was believed and justice was done not once, but twice.
"After all these years, I now feel safe and free to be able to move on with my life.
Speaking to the BBC, she added: "It's had a big impact and effect on my life and I hope that if there is somebody else in my situation that they go and find the help and speak out. Don't keep it to yourself."
The offences came to light three years ago when Ms Roper was being interviewed as a potential witness on an unrelated matter.
'Don't keep silent'
Joel Brooks, of Sussex Police, said she "suddenly began to volunteer information that she had clearly been bottling-up for many years".
The force helped Ms Roper access specialist support and counselling from Brighton-based group Survivors Network, which currently works with around 700 victims a year.
Its spokeswoman Fabia Bates, said: "We need to make sure that people don't keep it silent... then we can try to stop it."
Sussex Police said: "We take all such [historic] allegations seriously and investigate wherever possible.
"We are also committed to fully investigating all allegations about more recent or current offences."