Mark Manning murder detectives call off lake search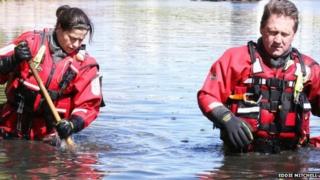 Detectives investigating the murder of a missing man have called off their search at a lake in Worthing.
Sussex Police made an appeal a year after Mark Manning's disappearance and started searching Brooklands Pleasure Park on Tuesday after receiving a tip-off he had been killed.
But officers have confirmed nothing was found and the site is being eliminated from the inquiry.
Police said they would be following up several other leads.
'No body found'
The 54-year-old, from Brighton Road, Lancing, was last seen on 19 April 2014 when a friend dropped him off at Worthing railway station. His family reported him missing three days later.
Mr Manning was a former military bomb disposal expert who had worked for the Mines Advisory Group, a charity that removes landmines and other dangers.
A murder inquiry began last June but no-one reported hearing from or seeing Mr Manning and his body was never found.
Police said he was close to his family and his disappearance was out of character.
They also said he had not used his mobile phone, carried out any financial transactions, or attended pre-arranged meetings or appointments, and there had been no reported sightings of him.
Specially-trained officers using dogs searched Brooklands Pleasure Park, and a West Sussex fire crew searched the lake.
The park, run by Adur and Worthing councils, is close to the seafront where Worthing borders Lancing - where Mr Manning lived alone.
He is described as white, 5ft 9in (1.75m) tall, clean-shaven, with a tanned complexion and of a stocky build. He has blue eyes and is bald.