Brighton house inspired by Sistine Chapel is completed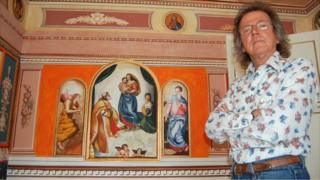 A retired decorator who has spent 12 years turning his Brighton council house into an homage to Renaissance art has finished his final room.
Robert Burns, 67, has used every internal wall of his home as a canvas to replicate Renaissance paintings.
He is self-taught and said his spare room - previously painted in magnolia - was the last to be transformed.
"The essence of the Renaissance is to keep adding to it. So that's what I'll probably do," he said.
He said he has not once visited a gallery to see any Renaissance masterpieces first hand.
"I've never seen any of this stuff in situ, so I buy books on the renaissance from car boot sales and charity shops," he said.
"It was a labour of love and my wife still loves it.
"She said I'd got better over the years."