Brighton velodrome campaigners continue fight for revamp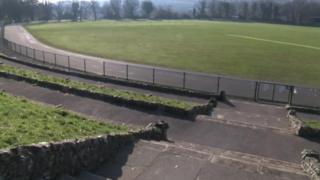 Cyclists fighting to bring back competitive racing to Brighton's outdoor velodrome have held a public meeting calling for it to be restored.
British Cycling stopped any racing at the Preston Park track in January due to safety concerns.
Rupert Rivett, of Save Preston Park Cycle Track, said it would be a great shame to lose the facility.
About £300,000 is needed to revamp it. Talks between British Cycling and Brighton council are ongoing.
The velodrome, which was dug out by hand by the British Army in 1877, continues to be safe for non-competitive use.
However, British Cycling said the perimeter fence needed to be replaced with a new one that meets modern safety standards.
Mr Rivett said before competitive racing was stopped, the track was being used every week by a cycle track racing league and a youth cycling club.
About 45 people attended the meeting on Monday evening, showing "the strength of feeling" for the site, he added.
"This is a great facility. I'm sure the soldiers that dug out this track will be turning in their graves at the thought that our generation are letting it go this way."
A petition signed by more than 4,000 people earlier in the year called on the council to help save the velodrome.
Mr Rivett said campaigners were waiting to hear whether the local authority could come up with the money to pay for the necessary repairs, but they were prepared to do whatever they could to save the site.
In a statement, the council said the petition would go to the Economic Development and Culture Committee for a response on 18 June.
"That committee will decide what action it wants taken to progress the matter," it added.