Eco-holiday plan for Shoreham cement works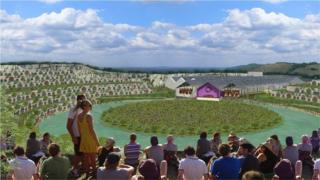 Plans have been drawn up to transform a cement works into an eco-development, featuring green accommodation pods for people on holiday and an outdoor amphitheatre.
The Shoreham cement works, in Sussex, closed in 1991 and since then have been left largely derelict.
Developers have compiled a plan to turn the site into an eco-friendly resort.
The South Downs National Park Authority said its policy for the site would be put forward in September.
Bill Dunster, from ZEDfactory architects, said: "People love the building, it's got a great grandeur inside.
"The idea is to keep as much of it as possible and put a new translucent solar electric roof on it that lets the daylight through and use the industrial spaces within.
[It would be] a bit like the Tate Modern and the turbine hall there - so there will an arts complex and businesses, cafes, restaurants and local food.
"Above all it would be a demonstration of low carbon technology."
Robert Cheesman, who is the chairman of the South Downs Society, said the current site should be demolished.
"We've been concerned for many years about the ugliness of the Shoreham cement works," he said.
"Any proposal that takes that into account has to be welcomed.
"Having said that we need to look at the detail of the current proposal... and consider it on its merits."