Brighton and Sussex hospital trust gets Legionella fine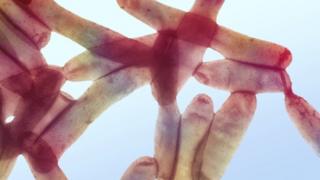 A hospital trust has been fined £50,000 following an outbreak of Legionnaires' disease in 2011 that may have hastened the death of an elderly patient.
Joan Rayment, of Eastbourne, is thought to have contracted the bug from a shower at Royal Sussex County Hospital.
An inquest found she died from natural causes seven days after she tested positive for the disease.
Brighton and Sussex University Hospitals admitted a health and safety offence at a previous hearing.
It was also ordered to pay more than £38,000 in costs during sentencing at Lewes Crown Court on Thursday.
A health and safety investigation into the trust began following the death of Mrs Rayment.
'Extremely sorry'
Although an inquest at the time found she died from natural causes, it did note that the waterborne Legionella bacteria may have hastened her death.
Following the sentence, trust chief executive Matthew Kershaw admitted that "failings" in its water management had led to "inadequate corrective actions being undertaken as quickly as they should have been".
"Although it was not the cause of her death, it is possible that Mrs Rayment contracted Legionnaires' disease from a shower in our hospital and for that we are extremely sorry and have apologised unreservedly to her next of kin," he added.
Mr Kershaw said £1.7m had been spent on building work, staff had undergone an "extensive training programme" and its water testing procedures had been improved since 2011.