Rare Japanese board game on loan to Chichester museum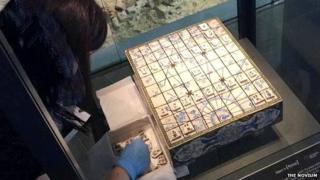 A 200-year-old Japanese board game that is similar to chess with its kings, generals and foot soldiers has gone on display at a Sussex museum.
The shogi set is thought to be rare because it is believed to have been made by a porcelain factory, when most shogi games were made of wood.
London's Horniman Museum has lent it to the Novium in Chichester.
It is thought it was made in the 1800s. The game is believed to have developed in Japan in the 10th or 11th centuries.