Hastings leader wants double council tax on holiday homes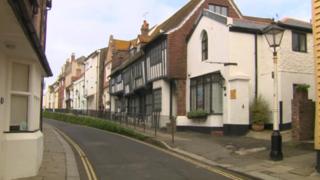 The owners of holiday homes in Hastings should pay double the amount of council tax, according to the Labour leader of the council for the seaside town.
Councillor Peter Chowney of Hastings Borough Council claimed there was a shortage of affordable property.
He said rich owners were depriving local people of a home.
Last week residents of St Ives in Cornwall voted to stop the building of second homes, reserving any new houses for full-time residents.
Mr Chowney told BBC Sunday Politics he thought a similar ban in Hastings, East Sussex, would be less effective as most second homes in places like Old Town and Warrior Square were older buildings.
He said: "What we need is similar powers to what councils have in Wales, which can charge a premium council tax on second homes. They tend to be empty a lot of the time.
"In some cases [owners] only come down for a couple of weekends a year. There is no contribution to the local economy if the house is sitting there empty and it is depriving someone of a home," he added.
Former Country Life magazine editor Clive Aslet, who owns a second home in Ramsgate, Kent, said restrictions on the housing market would be "fraught with dangers of corruption. Who on earth would say who was local?"
Jon Clements of M&W estates agents in Hastings said the recent rise in stamp duty was already slowing down sales in second homes.
He added: "Hastings is not St Ives. There are lots of houses in Hastings to come to, it just depends where."