'Mad' students pose for photos near Beachy Head cliff edge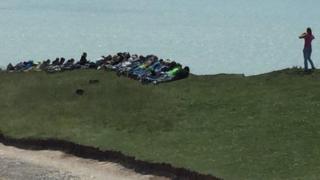 Students spotted posing for pictures on a dangerous cliff edge days after tonnes of land collapsed into the sea have been described as "mad".
The group lay peering over the precipice close to Beachy Head in East Sussex, which at 162 m (531 ft) is the highest chalk sea cliff in the UK.
They were photographed on Wednesday, two days after an 8 m (26 ft) mound of chalk fell into the sea.
Ian Noall, manager of nearby Belle Tout lighthouse, said: "It's madness."
He added: "The weight of that amount of people at one time ... we will end up going out to recover people and unfortunately it will be fatalities."
Walkers have been warned to stay away from the cliff edge after the land slide, which happened between Cuckmere Haven and Birling Gap.
Mr Noall said: "I've lived here for five-and-a-half years and I've still not been within 10 feet of that cliff edge because I have seen six feet go at a time.
"You do get the odd person perching over the edge trying to get a photo or having a look, but to get 25-30 people all in one spot is the weight of a small car.
"To put that right on a crumbling cliff edge is very, very dangerous."
The group of more than 15 students are thought to be from one of the many colleges in the area.
The Belle Tout lighthouse, which was used in the making of the BBC's Life and Loves of a She-Devil in 1986, had to be moved back from its previous position on the cliff edge because of erosion in 1999.