Ambulances 'confiscated' from firm in financial difficulty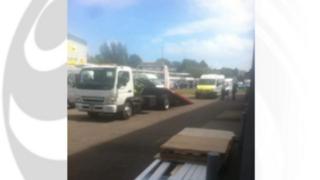 Bailiffs have taken away private ambulances from a company providing patient hospital transport in Sussex, a union has claimed.
Unison said its pictures show a vehicle owned by VM Langfords being confiscated, as the firm had run into financial difficulty.
VM Langfords admitted it had issued a "notice of moratorium" - a stage before administrators might be called in.
Ambulances run by other companies have been arranged as replacements.
Unison branch manager Pete Steventon told BBC Sussex: "Staff are very very worried, members are fearful for their future".
Patient safety
In a statement, Alton-based VM Langfords said: "Patient safety is the priority at all times and we are working with all parties involved to preserve the business.
"A notice of moratorium has been issued to enable us to seek the best possible outcome for patient transport."
The notice protects companies by freezing the rights of creditors to start insolvency proceedings.
Service provider Coperforma hired several subcontractors including VM Langfords when it took over non-emergency patient transport in Sussex in April.
The service has since been beset by delays and even failure to collect patients.
Earlier this month Coperforma was given an ultimatum to solve its problems.
Coperforma chief executive Michael Clayton said: "While situations of this nature are unfortunate, the speed and effectiveness of the transition procedure we have put in place demonstrates the benefits of a managed ambulance service and our ability to bring in additional resources promptly."