Brexit favours Gatwick expansion, airport claims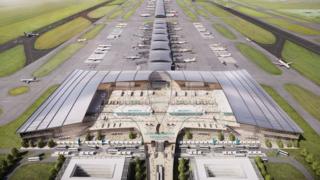 Brexit means it is "clearer than ever" Gatwick should be expanded, the airport's chief executive has claimed.
Stewart Wingate of the West Sussex site believes it could "balance the economy and the environment" for the country.
But Heathrow's chief executive, John Holland-Kaye, said expansion in west London would show a "confident outward looking trading nation".
David Cameron's resignation after the EU Referendum means a final decision on a new runway could be delayed.
The Airports Commission recommended to the government last July there should be a third runway at Heathrow rather than a second at Gatwick.
But the BBC's Transport Correspondent Richard Westcott said while the preference for Heathrow was made with Mr Cameron in charge, others in the Conservative party, who may contest the leadership, were opposed to it.
Mr Wingate is expected to tell the National Infrastructure Forum's annual conference on Tuesday that a second runway at Gatwick could be delivered by 2025 at "a fraction" of the environmental impact of expanding Heathrow.
"It is now clearer than ever that only Gatwick can deliver the new runway Britain needs - to provide the direct connections to North America, South America, Europe, the Middle East and Asia that we all want, because only Gatwick can balance the economy and the environment.
"The time has now come for everyone to get behind a new runway so the country can get the economic boost that is more important than ever."
Heathrow's chief executive Mr Holland-Kaye said: "At an uncertain time for the British economy, MPs recognise that Heathrow is a private sector infrastructure project that will spread growth across Britain from the moment that we get a green light."
The Department for Transport (DfT) said it remained "fully committed" to its infrastructure project.