Thames Ambulance Service staff face job losses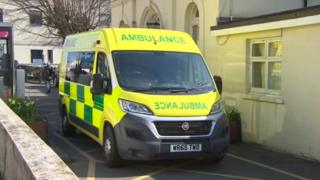 Staff working for a company that provides ambulance services to a controversial patient transport firm are facing redundancy.
Thames Ambulance Service has told staff in Sussex it is owed more than £700,000 by Coperforma, which runs the service.
Coperforma lost its transport contract last week after months of complaints from patients and subcontractors.
It said its contractor payments were up-to-date and it was trying to resolve a small number of queries.
Thames Ambulance Service said it had covered wages since June, despite not receiving payment from Coperforma for the work it had done.
'Desperate for solutions'
In a letter to staff, Thames said: "It is with deep regret that we now have to advise that we simply cannot afford to continue providing services without receiving payment for the work we have done."
It said it had no option but to begin a redundancy consultation process and it was likely all its Sussex-based staff would be made compulsorily redundant.
A spokesman for Coperforma Limited said: "Whilst it is true to say that Thames Ambulance Service have alleged that we are indebted to them, this is disputed where we believe that we have been overcharged under the terms of our contract with them.
"Our solicitors are in correspondence with Thames' lawyers about this matter.
"Although we endeavour to keep suppliers paid promptly, we cannot , of course make payments to any supplier where services are not provided."
Gary Palmer, of the GMB union, said: "I hope the CCG will not waste any more public money on handing such an unprofessional organisation anything but a notice to immediately quit Sussex for good."
NHS High Weald Lewes Havens Clinical Commissioning Group which awarded the non-emergency transport contract to Coperforma has yet to comment.