Coperforma transport service 'badly let down patients'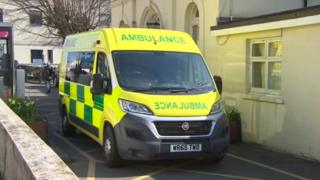 A patient transport service criticised for delays in taking people to and from hospital has admitted it "badly let down" patients.
Coperforma lost its contract after months of complaints from patients and subcontractors.
Chief executive Michael Clayton said "wrong decisions were made for which I take responsibility".
But he claimed the firm faced "malicious, largely politically-inspired publicity" from the outset.
Healthwatch Brighton & Hove chief executive David Liley said the suggestion "adverse press coverage" contributed to Coperforma's problems was "frankly nonsense".
Gary Palmer from the GMB union said negative publicity "only followed Coperforma's negative public performance".
Mr Palmer said: "Michael Clayton has once again produced a statement which confirms his lack of reality in regard to just how serious an effect his and Coperforma's mismanagement and bungling has had upon the patients of Sussex."
'Unwinnable battle'
Mr Liley said: "We have direct evidence taken first hand from patients about high levels of worry and stress caused directly by poor performance of Coperforma service."
Within days of Coperforma starting its contract in April with NHS High Weald Lewes Havens Clinical Commissioning Group, patients revealed they were suffering delays in reaching appointments.
Sub-contractors said they were not being paid on time and Thames Ambulance Service also claimed it was owed £700,000.
Mr Clayton said: "Criticism started on the day commissioners announced the contract... inevitably and correctly it increased when the service ran into trouble.
"Wrong decisions were made for which I take responsibility and we badly let down many patients."
'Friendly divorce'
But he said even when problems were "quickly identified and rectified and the service began performing better" the negative publicity "continued relentlessly".
"It became clear we were facing an unwinnable battle and there came a point in October when the board feared the service would break down completely, threatening the safety and well-being of patients," he added.
Mr Clayton said the board concluded "the right and only course of action" was to step down. He described it as a "friendly divorce" with "no fault" attached to either side.
South Central Ambulance Service is set to take over the service.