'Metal detectors' vandalise South Downs war memorial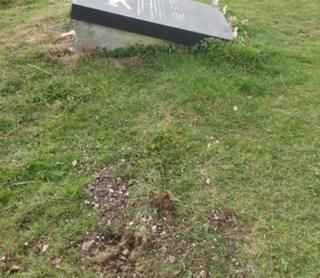 A memorial site marking the World War Two deaths of 10 US airmen has been dug up by so-called "nighthawk" metal detectors, police believe.
The airmen lost their lives on the South Downs site near Eastbourne when their US bomber crashed in 1944.
Digging at the site was consistent with illicit metal detecting, officers said.
Heritage crime officer for Sussex Police, Daryl Holter, described it as a "shady unscrupulous act" which showed "a complete lack of respect".
"The site of the memorial is protected by the Protection of Military Remains Act 1986 and any contravention of this will be fully investigated," he said.
Nighthawking is a term used to describe metal detectors who trespass on to protected land under the cover of darkness.
The Royal British Legion said it was "shocked and saddened" to hear of the incident so close to Armistice Day.
"War memorials and graves honour the memory of the Armed Forces personnel who have made the ultimate sacrifice and those who defend the freedom we enjoy.
"They deserve to be treated with the utmost respect," a statement said.