German real candle 'tradition' starts Worthing Christmas tree fire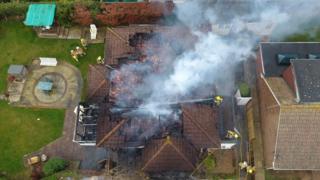 A couple's home was destroyed by a fire after they put real candles on their Christmas tree to show their grandchildren a German tradition.
Firefighters found the Worthing bungalow fully alight after receiving an emergency call on Christmas Day.
The children were unharmed but the couple in their 80s were treated for smoke inhalation and minor injuries.
West Sussex area commander Adrian Murphy said it was a reminder about the dangers of candles and trees.
He compared the flammable nature of a Christmas tree to a chip pan and said they burned ferociously if they caught fire.
"Fortunately, no-one has been badly hurt here or killed but they have lost their house out of this which is a really powerful reminder to everybody," he said.
Mr Murphy said he believed the grandmother was of German descent and added: "It was the German tradition of real candles on a Christmas tree."
He said: "Candles and Christmas trees don't mix."
Mr Murphy said the alert came shortly after 13:00 GMT and added the grandparents may have tried to extinguish the fire themselves with a bucket of water at their Durrington Hill home.
He warned anyone involved in a fire to get out of the property immediately and let firefighters tackle the blaze.