Shoreham air show: Event cancelled for a second year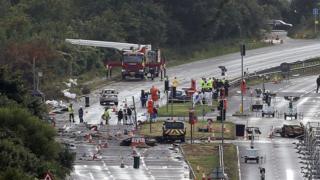 The Shoreham air show has been cancelled for a second year out of respect for the families of the 11 men who were killed at the event in 2015.
Organisers said no firm plans could be made while investigations into the air crash disaster were continuing.
The victims were killed when a vintage hawker hunter jet crashed on to the A27, bursting into flames.
On Tuesday, the Civil Aviation Authority accepted a raft of measures recommended by crash investigators.
'Hope for another show'
Show director Colin Baker said: "It would be quite wrong to even consider another air show when everyone is working hard to get the right result.
"We hope to be able to do another one, however it may not be exactly the same as it was."
He added that it was too early to say if there will be a show in 2018.
An inquest is yet to be held into the deaths.
Pilot Andy Hill, 51, survived and is being investigated for manslaughter.
The Air Accidents Investigation Branch is expected to publish its final report within the next few months, concluding its investigation into the accident.
---
The victims
Matt Jones, a 24-year-old personal trainer
Matthew Grimstone, 23, a Worthing United footballer who worked as a groundsman at Brighton & Hove Albion
Jacob Schilt, also 23 and also a Worthing United player, was travelling to a match with Mr Grimstone
Maurice Abrahams, 76, from Brighton, was a chauffeur on his way to pick up a bride on her wedding day
Friends Richard Smith, 26, and Dylan Archer, 42, who were going for a bike ride on the South Downs
Mark Reeves, 53, had ridden his motorcycle to the perimeter of Shoreham Airport to take photos of the planes
Tony Brightwell, 53, from Hove was an aircraft enthusiast and had learnt to fly at Shoreham airfield
Mark Trussler, 54, is thought to have been riding his motorcycle on the A27
Daniele Polito was travelling in the same car as Mr Jones
Graham Mallinson, 72, from Newick, was a keen photographer and retired engineer
---