Shana Grice suspect 'broke in to watch her sleep'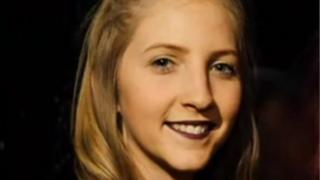 A man accused of killing his ex-girlfriend stole a key to her house in order to watch her as she slept, a court heard.
Michael Lane denies murdering Shana Grice, 19, who was found with her throat slit in her torched bedroom.
Lewes Crown Court heard he stalked the teenager after she renewed a relationship with a former boyfriend.
Emma King told jurors her housemate woke one night to find Mr Lane looming over her bed.
A phone conversation the day after between the former couple was played to the court, in which the victim asked why he had taken the key.
'Not right in the head'
Mr Lane, 27, replied: "I wanted to see you and to talk to you. I knew you would not let me in."
"You could have flipped at any point... I think it's so wrong... You could have done anything... While I'm sleeping, it's just weird," Ms Grice responded.
Mr Lane said: "I'm sorry I'm just not right in the head, if I was I would not have done that."
He was arrested later that day and given a police caution.
Ms King said following the incident, they bolstered security at their house in Portslade, East Sussex, and changed all the locks.
The prosecution asserts Mr Lane was "obsessed" with Miss Grice and slit the teenager's throat before setting fire to her bedroom in Chrisdory Road in August.
The court heard the defendant, of Thornhill Rise, Portslade, refused to accept their break-up and had decided no-one else would be allowed to form a relationship with Miss Grice.
Ms King said he often followed her former housemate and added: "Shana said that he was bothering her, that he liked her and kept texting her and would not leave her alone."
The trial continues.