Shana Grice murder: Jury hears timeline of 'stalking and abuse'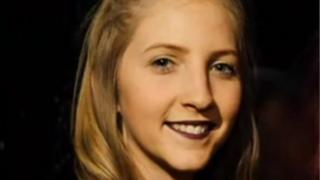 A man accused of murdering his ex-girlfriend carried out a campaign of stalking and abuse before the killing, a jury has heard.
Lewes Crown Court was told about the number of times Sussex Police were in contact with Michael Lane in the months leading up to the death of Shana Grice.
In August 2016, the 19-year-old's body was discovered with her throat slit in her bedroom, in Portslade, East Sussex, which had been torched.
Mr Lane, 27, denies murder.
The prosecution alleges Mr Lane became "obsessed" with the teenager and killed her when she renewed a relationship with her former boyfriend, Ashley Cooke.
Police contact with the accused:
8 February - Miss Grice contacted police, feared she was being stalked by Mr Lane after receiving unwanted flowers and claiming that her car had been damaged. Mr Lane was warned by the police to stay away from her.
24 March - Mr Lane allegedly snatched her phone and grabbed her hair. He was arrested on suspicion of assault but was later released and Miss Grice was given a fixed penalty notice by the police for wasting their time.
9 July - Mr Lane used a stolen key to enter Miss Grice's bedroom while she slept. He was arrested for theft and given a police caution.
25 August - Mr Lane was arrested on suspicion of murdering Miss Grice after her body was found at her home in Chrisdory Road.
The jury has watched taped interviews with the Mr Lane recorded on 26 August. When asked by an officer in an interrogation room "What happened to Shana?" Mr Lane said '"I don't know."
"All I know is what I've been told here," he added.
The trial continues.