Shana Grice murder case: Accused 'changed his story'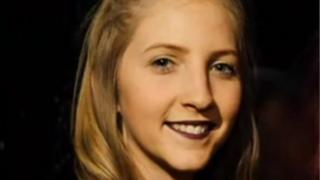 A man accused of murdering his ex-girlfriend "changed his story" on a number of occasions, a court has heard.
Police interviews with Michael Lane questioning him as to his whereabouts on the morning of Shana Grice's murder have been played to Lewes Crown Court.
The 19-year-old's body was discovered with her throat cut at her home in Portslade, East Sussex, on 25 August last year. Mr Lane, 27, denies murder.
CCTV footage seen by the court showed him nearby at the time she was killed.
The court heard that police believe Ms Grice died sometime between 07:25 and 08:00 BST, based on the fact that she was conducting a text message conversation with a friend.
A message was sent to her at 07:42, but phone records show she never opened it.
The jury was shown two taped police interviews carried out with Mr Lane.
In the first, police showed him CCTV footage of his movements on the morning of the murder.
The court heard that Mr Lane had said he had left his home in Portslade at 08:00 that morning, but the CCTV showed him walking near Ms Grice's house in Chrisdory Road at 07:29.
His car was then seen in the area at 07:36 and at 08:12.
The detectives asked him why he appeared to have changed his story, to which he replied he must have been confused about the time.
However, in his final police interview played out to the jury he did admit that he had been at Ms Grice's house.
Mr Lane said he had walked into her bedroom to find her lying on the floor in a pool of blood, but rather than telling anyone, he went home, had a shower, then went to a shop to buy a lottery ticket.
Det Con Lee Taylor said to him in interview: "If you were innocent why didn't you come out of there and say: 'Oh my God - my girlfriend is dead. I need this investigated.'"
Mr Lane said: "I just panicked. I just thought you'd think it was me. I didn't know what to do."
The trial continues.