Terry Bridger spared jail after 40-hour Pagham police stand-off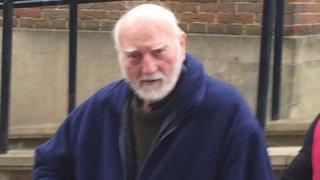 A terminally-ill pensioner who threatened to shoot at police during a 40-hour stand-off has been spared jail after a judge heard he has a year to live.
Terry Bridger, 73, shut himself in his home in Pagham, West Sussex, after an argument with his wife last August.
A sentencing hearing was told he has lung cancer and would likely die in prison if given a custodial sentence.
He was handed a 12-month supervision order at Chichester Crown Court.
'Deeply remorseful'
During prolonged negotiations with police, which involved more than 100 calls as well as contact by megaphone, Bridger threatened to blow up the property and shoot out the police lights shining on his home.
Jonathan Atkinson, prosecuting, said Bridger threatened officers with "a big surprise" if they tried to enter the property, which officers feared was in relation to a booby trap device.
But Bridger's shotgun was locked in a firearms cabinet and he did not have the keys to access it during the incident.
Pierce Power, defending, said his client was "deeply remorseful" and could not explain his actions but believed they might have been caused by a change of medication.
"It would be a tragedy indeed if a man of 73 years of age with such a positive good character, for a moment of madness in how he behaved that night, could possibly die in prison."
Bridger sobbed in the dock as he was sentenced to a total of 10 months in prison for using a firearm with intent to resist arrest and making threats to destroy the house and police lights.
Judge Christopher Parker QC said because he had already served the equivalent of an 11-month prison sentence following his arrest, he was free to leave the court with only a 12-month supervision order still to serve.
Bridger's shotgun and an air rifle were also confiscated.
He said: "There is no clear indication of what caused you to behave in this way; some suggest it was the change of medication, maybe it was the stress of knowing you have a terminal illness."
Bridger's daughter is also battling cancer herself and Mr Power said: "He is deeply remorseful to all caught up in his behaviour that night and his greatest concern is his wife and daughter. They have suffered terribly."