Chichester sheep farmer uses alpacas to guard flock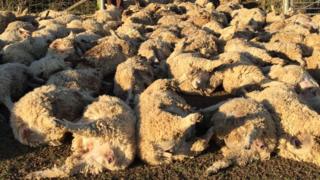 A sheep farmer who lost 116 sheep in a suspected dog attack has invested in a pair of alpacas to guard his flock.
Many of the sheep were pregnant when they were found dead in a field at West Dean Estate, near Chichester, a year ago by owner Gordon Wyeth.
It was described as the UK's "worst sheep-worrying attack in memory".
Mr Wyeth said the alpaca's natural "herding and protection" instincts should protect his sheep from stray dogs and other predators.
Shepherd Liz Rough said: "The alpacas are introduced in to the flock and anything not on a lead with a person, the alpacas will run towards and scare away from the sheep.
"Their natural instincts when put with sheep is to guard them, and to protect and look after."
She added that the two male alpacas, named Tom and Jerry, had previously been used to protect a flock in Devon.
Mr Wyeth said the problem of sheep-worrying was getting worse.
"In the last year we've had seven dog attacks, and lost 160 sheep, and they're just the ones we know about.
"We also had an incident down in Chichester where we found the sheep shaking in the corner, and this was just when the rams were mating them.
"We had less lambs born because of the stress."
Mr Wyeth said the loss to his business had been about £25,000 and insurance companies would no longer insure him for dog attacks.