Brawl at Varsity rugby match to be investigated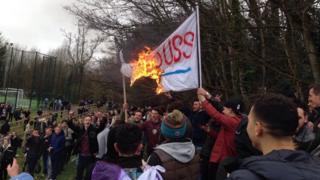 A brawl that broke out among spectators at a university sports event is under investigation by police.
Bottles were thrown at the crowd and security staff during the Varsity rugby event between the universities of Brighton and Sussex.
According to the University of Sussex students' union a small number of spectators were injured.
In a statement the Vice-Chancellors of both universities described the events as "shocking and disgraceful".
It added that any students identified as taking part would "face serious consequences under our codes of discipline."
Sussex Police said it was called to a report of a large fight, and that there were reports of bottles being thrown and a number of people being injured.
A statement on the University of Sussex students' union website said "misogynistic, homophobic and racist language" was used at the event.
As a result of the violence the men's rugby match was cancelled and students' union shops were temporarily closed.