Hove mould complaint family moved 25 miles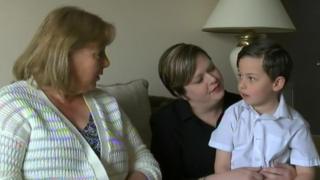 A family evicted from their home after alerting a council to its "dire" state have been moved 25 miles away with "less freedom than young offenders".
Anthony and Neridah Lowe, with their five-year-old son Harlem, were renting privately in Sussex in a home consumed with mould.
A council labelled the property "hazardous" and contacted the letting agency to start repairs before the family was served an eviction notice.
The agency, SB Lets, has not commented.
It is claimed mushrooms were growing from under the bathroom tiles at the flat in Blatchington Road, Hove, and the family were all sleeping in the lounge because both bedrooms were affected by mould.
The low-income family receive housing benefit and were served an eviction notice after contacting Brighton & Hove City Council.
Environmental health officer Martin Keane said in an email to the family: "I can confirm the property is subject to dampness throughout, which may be due to a defective roof.
"I have assessed the property under the housing health and safety rating system and believe a category one hazard exists and will, therefore, be contacting your landlord to action the repairs.
"I understand you have been given notice to quit."
Mrs Lowe, 30, a care worker in a home for disabled people, said: "Living conditions were absolutely dire."
The family were offered hostel accommodation in Eastbourne by the council on the condition no further assistance would be offered if they declined.
They said the lack of a reference made finding private accommodation impossible.
Mrs Lowe often works 12-hour shifts and now has a two-hour 40 minute commute on public transport to and from work.
It takes two hours to get Harlem to school.
The hostel's shared kitchen is shut from 8.30pm to 8.30am, so they cannot eat or drink at home before their morning journeys.
Mr Lowe's mother Maggie Lowe, 56, said: "They are being treated like young offenders."
A council spokesman said: "Due to a shortage of accommodation in the city, the only suitable property available was in Eastbourne.
"All households the council owes a housing duty to are offered the opportunity to obtain alternative private rented accommodation if this is what they would prefer."
---
Temporary accommodation
There are currently 1,655 people in temporary accommodation in Brighton and Hove
That equates to almost 13 households in every 1,000
The average across England is three in 1,000 - one in 1,000, excluding London
The Department for Communities and Local Government figures were published last week.
---