Transgender woman banned from pub's ladies' loo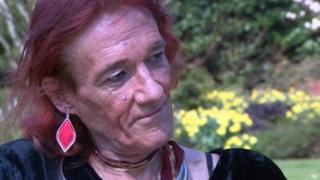 A transgender woman has been banned from using the ladies' toilet at her local pub, leaving her "humiliated and made to feel like an outcast".
Ashleigh Haffenden was told on Saturday to use the disabled toilet at the Devonshire pub in Bexhill, East Sussex.
Ms Haffenden came out as a woman three months ago, and said no-one deserved to be treated as a second-class citizen.
The pub's landlord said his customers needed to feel safe and comfortable, but declined further comment.
Ms Haffenden, 52, is a professional carer, and has two sons.
She has not undergone gender reassignment surgery.
"Every time I've gone into the toilets in the Devonshire, as I've walked in if there are ladies in there, I've gone 'excuse me, I feel more comfortable in here than in the gents so is it ok?', and they've all gone 'fine'."
"Women seem to be more accepting than the men. I think it's the men that feel threatened," she added.
Ms Haffenden has not made a formal complaint, but under the Equality Act 2010 transgender is a "protected characteristic", meaning it is illegal to discriminate against either directly or indirectly.