Reward over Sussex Post Office cash machine 'gas attacks'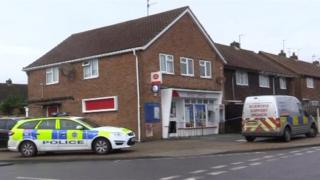 A £25,000 reward has been offered after cash machines at post office branches in Sussex were targeted with gas explosions .
Cash machines were raided in Saltdean and Shoreham and a third was targeted in Hurstpierpoint.
Crimestoppers and Post Office Ltd have offered the reward for information leading to a conviction.
Roger Critchell, director of operations for Crimestoppers, said a large sum of money was stolen.
The exact amount has not been revealed, but "cassettes" containing cash were taken from each machine, he said.
Crimestoppers said all the raids involved explosions and were "gas attacks".
On 3 March at Shoreham gas canisters were carried to the cash machine and following an explosion, a suspect smashed through with a sledgehammer, Crimestoppers said.
The Saltdean branch was targeted on 28 February, and the Hurstpierpoint raid took place on 23 March.